December 26th. Central Car Park.
I decided to go for a walk around the town to burn off some of the calories from the excesses of Christmas day and parked in one of the BDBC car parks. The sign on the meter clearly said "No Charges on Public Holidays". Boxing Day for as long as I can remember has always been a Public Holiday and so I parked my car and went for a stroll around the town.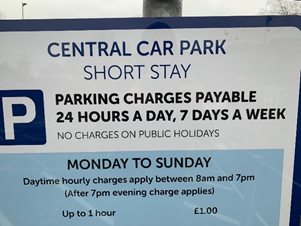 On my return I found a Parking Ticket (PCN) on my car windscreen stating that I had "Parked in a car park without clearly displaying a valid pay & display ticket or voucher or parking clock". It stated the penalty was £50 but if I paid it quickly, it would reduce the penalty by 50% to £25. Given that my car was one of two cars that were in the Central Car Park, I walked over to the other car and noticed that they had also received a PCN. Clearly that driver also took the parking sign at face value in that Boxing Day is a Public Holiday.
I sent an online appeal to Basingstoke Parking Enforcement stating that I believed they had made a mistake and that Saturday was a Public Holiday. A few days later I got a reply from them stating that Boxing Day was not an official Public Holiday and that it had been moved to the Monday 28th December. My PCN charge still stood and they expected payment. I asked to appeal their decision but was told I had to wait for the penalty charge to increase before I had the right of appeal. Incredible! However, determined that I was right, I waited for the formal letter from the BDBC and lodged my appeal online with photographic evidence of their own parking meter signage along with the empty car park that I was in. Further to this, I also provided evidence that stated that all Taxi Fares from the period between 8pm Christmas Eve to 6am on the 27th December are Tariff 3, which in effect states the following: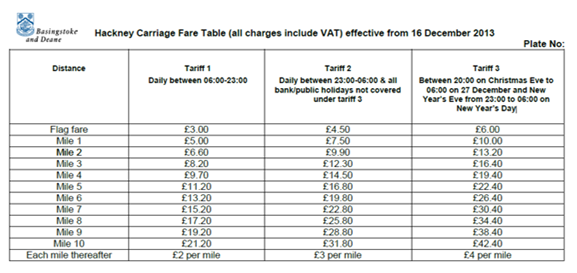 BDBC taxi licensing team consider 8pm 24th December to 6am on the 27th December to be double rate because of Christmas. This premium rate for Taxi's covers the holiday period 25th and 26th December. If 26th December is a normal working day, as BDBC are arguing, why would BDBC allow taxi's to charge double?
The appeal was submitted, and as expected BDBC rejected my argument, stated that I was wrong and that £50 was now payable. It made no comment about the Taxi tariff's but just said I was now expected to pay the £50. However, there was another route of appeal that I could take, and this was with the Traffic Penalty Tribunal who are independent lawyers who make the final decision without any further route of appeal. Still adamant that I was right in my understanding of a Public Holiday along with all the supporting evidence I had supplied, I submitted my appeal. I asked for a Zoom meeting on the date of my hearing to make my own representation. To my surprise, a short time later I received an email from the adjudicators stating that I had won the appeal as the council were wrong.
I submitted a number of Freedom of Information (FOI) requests to the council between January and February related to parking. I asked how many tickets were purchased from the actual parking meters or the Ringo app on the 26th December 2020. I received a reply stating that 30 PCN tickets were issued in Basingstoke on that day. However, that was not the question I asked, but if all 30 had paid the £25, that is £750 straight into the coffers of BDBC which they were not entitled to. I am still waiting for my answer related to how many people actually paid for parking on the 26th.
I also submitted an FOI asking how many people work on a normal Saturday during the year and how many people were working on the 26th December 2020. Initially I got a reply stating that there are normally shifts of parking enforcement officers, street cleaners and community safety officers working on Saturdays, but on the 26th there were only 2 parking enforcement officers. A cynic would think this was a money-making exercise by BDBC to raise revenue. A further reply from an FOI then stated that BDBC Human Resources have confirmed that for all council workers, Saturday 26th December was a Bank Holiday.
I just hope that the other 29 people who paid their PCN fine now appeal and get their money back and that this council stop treating the residents as cash cows and start acting responsibly. But I doubt that will happen ………
Please Rate, Share & Comment.